I owned a Nikon D40 for years and decided I "needed" an upgrade. It happens.
I subsequently visited every camera review site. Bad idea. They largely focus, no pun intended, on the wrong things and take up too much time. Predictably, I ended up buying a Fuji X100.
You remember the X100 ? It used to be hot.
Well it turned out that "rangefinder-like" is not the same as "rangefinder". The marketing worked though. I used rangefinders for years prior to digital. The X100 may look like one, but its focussing, the entire point of a rangefinder, is diabolical. Coupled with some other tedious handling quirks, I gave it up. Yes, its image quality was superb when all the stars were aligned. But far too much fighting the tool required.
That does not make it a "special" camera, and its users gifted with photographic dexterity. It makes it a flawed one and its users hampered by design errors. I decided not to be one.
So on I went, and … well, lets's just say I sampled the full range of possible replacements from Fuji, Pentax, Panasonic and Olympus.
I settled on, instead, a Nikon D50.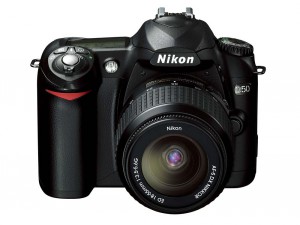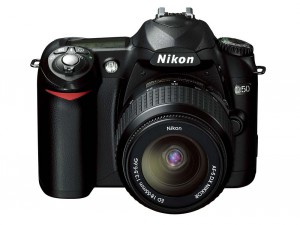 I know. It's getting on for 10 years old. It is actually older than the D40, which was released the subsequent year.
So … why ? Well …
1. It has a focussing motor and I have a couple of non-
AF
-S Nikon lenses left over from the D40 ( and my earlier, Nikon film camera ) days.

2. It has 1/500s flash sync. This was excellent on the D40, excellent on the Fuji X100, and I would really miss it for daylight fill-in. The D50 unlike other Nikons with AF motors I can find, supports 1/500s flash sync.

3. Size and weight. It's tiny but still manages an always-on 
LCD 
top display AND (sort of) dedicated buttons for 
ISO
, WB, QUAL just like the D300
while being about half its size and weight 
.
4. Tiny 
LCD
. I'm not a fan of the tendency for rear LCDs to grow, taking up most of the back of the camera and making the control buttons thus sit under the base of your thumb. I got rid of most of the cameras above because of handling, not image, issues. Many times, simple things like having all the controls crowded out by a too-big rear screen were enough to ruin the handling.

5. 2000 shot battery life. I remember this from my D40 days. I love not having to worry about the battery.
6. CCD not 
CMOS.
 I seem to prefer the look. I don't care about pixels.

It also focusses more reliably than my old Pentax K7 and has lower noise at ISO1600. 
It's superb. I love it. I'm keeping it !
Not a slight on anyone who has a newer Nikon ( I will get one, one day ) but I feel like raising a glass to the humble D50. If you ever find one, in working condition, just buy it. It will make you happy.
Some of my Nikon D50 shots