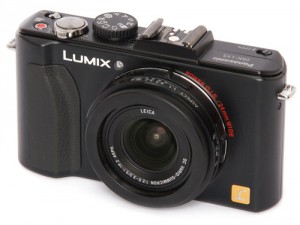 I had an LX5. Bought after a shamefully promiscuous period trying all sorts of compact digitals. The LX5 stayed longer than any other. I'd certainly take a look at the newer LX7 if the LX5 appeals too. Apart from the lens, and the other specs you can check and read about in any review, I'll add two comments that you don't often see, but which mark the LX5 out as a superior compact.
One, the build quality.
It's made of metal, as are many of it's competitors, but compared to similar Fuji or Nikon or Canon or Olympus … it feels much better put together. I suspect there is a reason Panasonic builds Leica's compact digitals.
Two, the of-course-you-wont-use-it-you-know-what-you-are-doing iA ( intelligent Auto ) mode is, well, intelligent.
Combined with the autofocus accuracy and speed, it's almost depressingly smart about getting a perfect shot. If I'm doing JPEGs, I just leave it on this setting. It is absurdly good. As it's on the mode dial on the top of the camera, just flicking it around to P,A,S or M gets you right back to RAW and creative control when you want it.
But don't underestimate the power of a really good auto mode and fast, reliable autofocus. Outstretched, no second-chance, one handed shots while riding a bike or chasing your kids ?
No issue.