Somewhere in the dismal period between me selling my Nikon D40 and acquiring a Nikon D50, I owned this Pentax K7.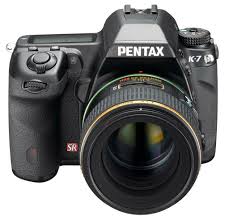 It's a metal-bodied, weatherproof, "semi pro" ( an amateur with money or an ego ) digital SLR from Pentax. Who ? Yes, rather sad really. Pentax created the SLR ( not digital SLR ) market and for some time were the leaders in both optics and cameras. That was a while ago. They have never really been a huge contender in the digital SLR market. Which is odd. Because their cameras are very good. This one, for example, shares the exact same body as the current ( as of mid-2013 ) top of the range Pentax DSLR, the K5ii. It is the most comfortable DSLR to hold I have ever tried. If you see one ( or a K5 ) do yourself a little favour and pick it up.
Added to the handling ergonomics, we have some very Pentax improvements. The usual PASM stuff of course. Plus "Aperture AND Shutter Priority" – you set the desired shutter speed and desired aperture, the camera sets the ISO for correct exposure. The body has shake-reduction built in. The only other brand to offer this is Sony. The result is that lenses can me made smaller, as they do not need to have the optical stabilisation built-in. Compare an old non-stabilised Nikon lens to its current stabilised version. The modern ones are bigger and fatter. Additionally any old Pentax, or Pentax-compatible lens, will also benefit from shake reduction. I used some 1960s vintage Takumar lenses on my K7, and they worked perfectly, with image stabilisation.
Finally, Pentax offers the usual range of modern zooms ( yawn ) as well as some unique-to-Pentax lenses. One is the "XS" – a tiny 40mm pancake lens. Unlike Olympus's pancake lens for micro 4/3 ( which I also owned … ) the Pentax one is f2.8 ( Olympus is f8 ! ) and has full autofocus ( Olympus has "near" and "far" manual focus ). It is amazingly small.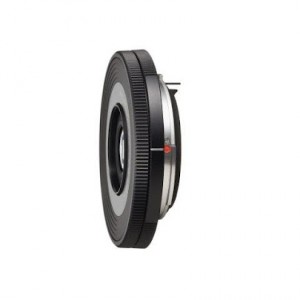 When fitted to the camera, it protrudes hardly more than a body-cap. The K7 with this lens attached, fitted in my Snapr case, which struggled to contain a Fuji X100. That's how compact it is.
Other unique lenses are the Pentax "Limited" range. These are prime lenses. Metal, with smooth manual or automatic focussing, and manual or automatic aperture settings. In other words, proper lenses the sort that are hard to find new from Nikon or Canon. They are not cheap but they are a world away from the usual plasticky zoom efforts sadlled to many a suffering DSLR.
Some pics I took with the K7 :
Many of those were taken with old 1960s Takumar manual-focus lenses, including the one of the lizard and the one showing Jupiter and its moons.
I sold the K7 during a year of frenzied camera-buying activity. I was intending to replace it with the near-identical K5, but ended up returning to Nikon with a D50, in order to use my existing Nikon lenses. I miss the K7 sometimes. It was a good one.