I owned a decent Rolex GMT Master 16753 in days gone by which I loved but replaced with a simple Orient Excursionist. Little wrong with that model, a bit large though, so it went too.
Searching for a GMT once more, I find …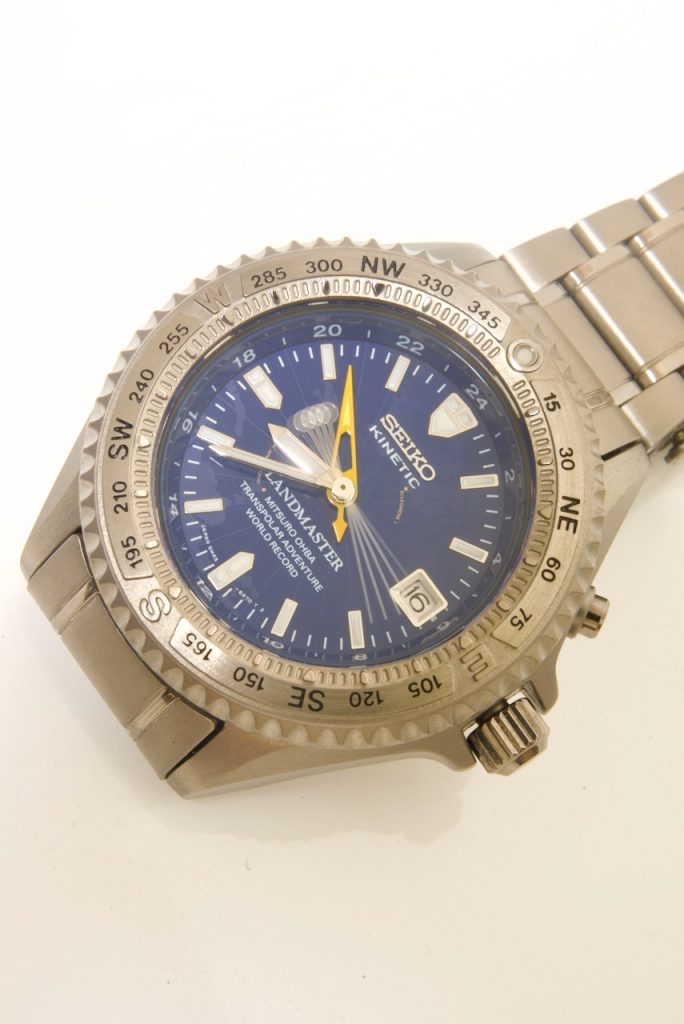 A Seiko Landmaster SBCW009 "Transpolar" Mint, full-length titanium bracelet, double-boxed with papers, tags and sales receipt from 1999.
Seiko will not only still service these, they do it for a reasonable price. A little less than 20,000 yen ( 125 pounds at current exchange rate ) for a full Seiko service. This includes upgrading the movement if necessary, to the later version with a longer power reserve.
The Seiko Landmaster has a long history, including design input from adventurers such as Ken Noguchi and others. It has a loyal following but is somewhat overshadowed by the Marinemaster series online. This particular model was issued to commemorate Mitsuro Ohba's trans-polar ( Siberia to Canada, over the North Pole ) expedition in 1997, which he undertook solo. Three previous attempts had failed. Ohba subsequently commented he felt lucky to have merely lost toes and fingers. He wore a Landmaster during the trip.
Later he traversed the South Pole solo, again wearing a Landmaster, modified to have the 24 hour hand rotating anti-clockwise. This allowed him to navigate the same way as he did in the northern hemisphere. This watch was released as the SBCW023.
The blue dial on this Transpolar version features a map of the Artic with the North Pole at the centre and the departure ( Cape Arkticheskiy ) and arrival ( Ellesmere Island ) points noted in small yellow text. From a distance, these look like dial imperfections.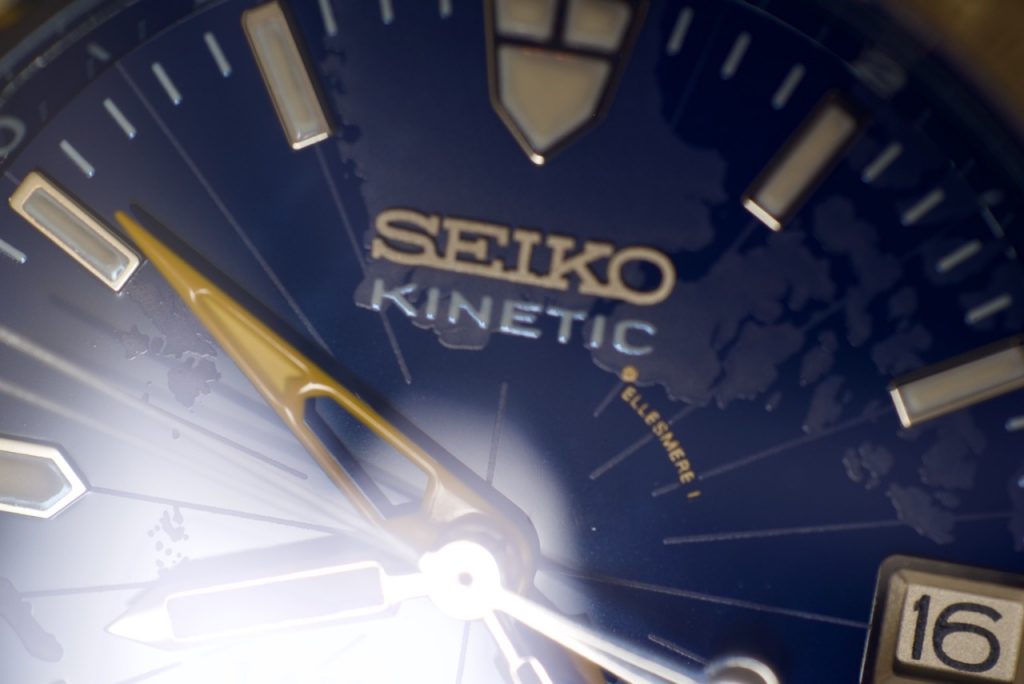 From the photo, you can see that the text and markings are in fact, superbly executed. The entire watch is matt titanium. Case ( including case-back – it is all one piece ), bezel and bracelet. Luminous treatment is Seiko's famed Lumibrite compound.
The movement is kinetic, a fairly noisy rotor charging the internal battery, which powers a Quartz movement. The hour hand is independently adjustable in one hour steps forward or backwards, and the date follows this, forwards or backwards. The 24 hour hand is slaved to the minute hand. As is usual with Landmasters, the bezel is a compass one, bi-directional. On this model, there is no ratchet. The bezel moves with the assured smoothness of a Leica lens barrel. A button at 2 o'clock shows how much charge is left.
As a simple, tested, rugged and reliable watch.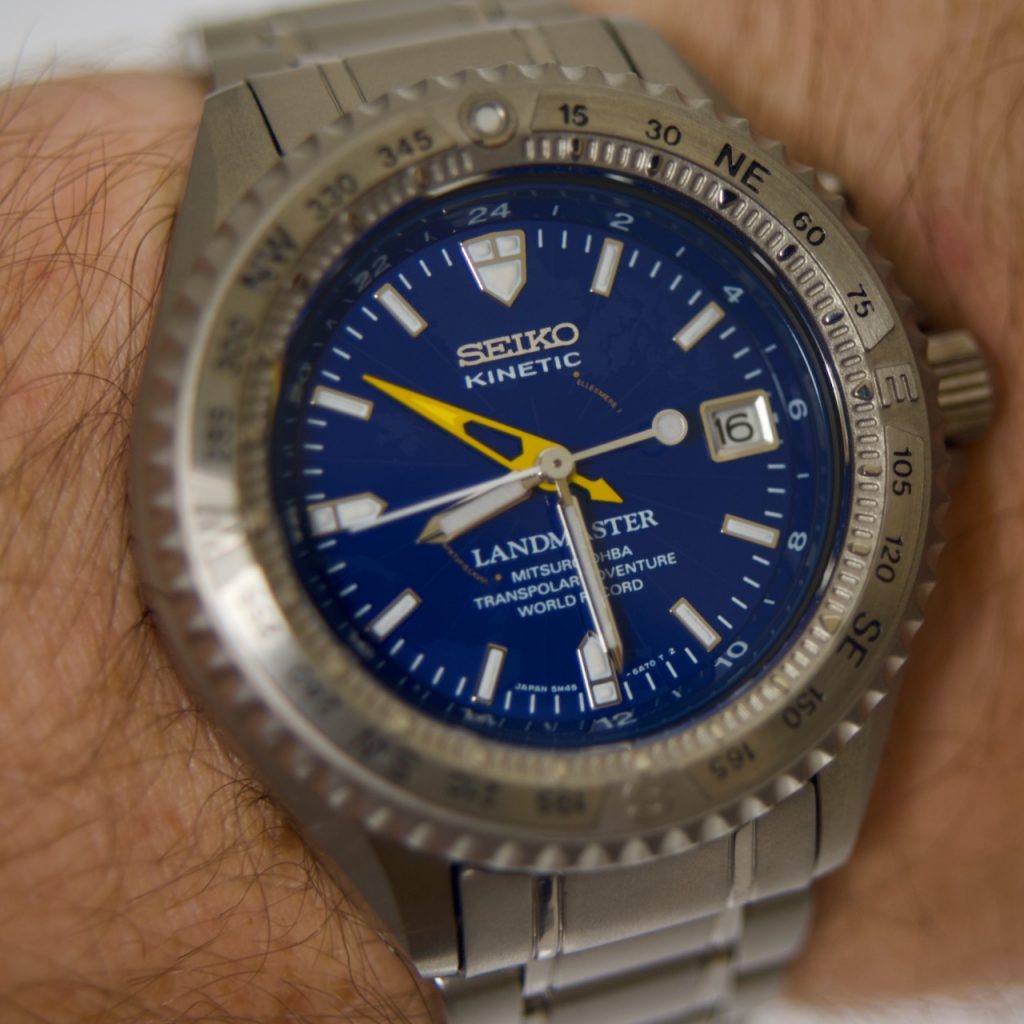 I give the final words to Ohba:
I wrote my will at the North Pole. I figured that it wouldn't be too strange if I died there. Ice can flow 30 kilometers in one night, and bears can sneak up on you. At times I felt as powerless as a small bird with its legs pulled off. I could hardly move under my own power. All I could do was pray. Out there, I realize how weak I was. Three times I was defeated by nature trying to reach the Pole. I went feeling too sure of myself, and going to the North Pole with the attitude that "I can take on anything" is dangerous. I was lucky to only lose some fingers and toes. Others have died. When you fail three times, no matter how stupid you are, you realize that feat, humility and gratitude are important. After finally figuring that out, I was able to successfully complete my solo trek on the fourth attempt.

If I were to express in a few words what adventure has given me, it would be the simple realization of how wonderful it is just to be alive. I have learned how precious life is, and how fleeting. On my treks I felt like I was living in the ice age, having arrived from the present. If I had to decide which time is better I would choose this one. There are hot springs, all sorts of delicious foods, my girlfriend, friends, and a warm house. Living with others in harmony and friendship, and at the end, during at home surrounded by the ones you love – I think that's a good way to live.